Session requirements:

The examinee must meet the following requirements:

Over 13 years of age at the time of the exam
A valid United States mailing address
Have a valid email address
Consent to data, audio, video and screen-sharing recording saved for 15 months

A laptop or desktop computer, with Chrome web browser and a webcam. The webcam video must clearly show the examinee's entire face (1080p recommended, minimum 720p). The webcam must be movable so the testing space can be inspected.
A stable broadband internet connection, of at least 3 Mbps download and upload. Wired connections preferred, or high speed Wi-Fi.
Hands-free speaker and microphone setup: built into the computer is best.
Headphones and headsets are NOT allowed for examinees.
Microphone must be on and audible to the VE Team throughout the exam session.
Optional items: blank scratch paper, pen, pencil, simple calculator (calculator on the computer is preferred)
A quiet space, with a clear desk or table that can be kept that way for the entire session. (For example: a clean bathroom, dining room, bedroom, or library study room).
The following circumstances will immediately invalidate your exam:
Another person walking into the exam space, being visible and/or audible.
Obvious examinee distractions from any source (including phones, watches, pets, standing up, leaving your chair, etc.)
Consistently looking away from the exam screen.
Any other suspicious circumstances, as determined by the VE Team.


Register for Session

Go to https://hamstudy.org/sessions and select your exam session. After registration, you will receive a 4-digit pin code. You will need this for your exam.
Use the PayPal options (with or without a PayPal account) below to pay $14 testing fee.
Test out your computer, webcam, and microphone system with the specific video conferencing program required for your exam session.
Ensure you have the appropriate form of identification as required by the VEC that is hosting your session. A government-issued photo ID like a driver's license.
Before the Session

Ensure all updates to your computer are completed the day before the exam.
For example: 3 Ways to Update Windows or Update the software on your Mac or  Update Google Chrome – Android – Google Chrome Help 
In order to minimize any factors which could invalidate your exam's integrity, the following are recommended:

The space you are in should be entirely free of any electronic devices.
The computer you are using for the exam should have all programs closed, notifications disabled, and other background services turned off, except for Zoom  and a Chrome browser.
If you're on a Mac, please check out this page and make sure you've given Zoom permission to share your screen:
If you're going to take the test on an iPad, there are directions below since iPads are a bit different and more complicated than taking your test on a computer:
Be sure to test your audio and video setup to ensure everything is working.
If others are using the same internet connection (especially on Wi-Fi), inform them to avoid streaming video or downloading large files throughout the exam. If the connection drops, your exam may be immediately terminated (at the sole discretion of the VE Team).
---
Taking your Exam

Log into your exam's video conference using the link provided by your VE Team.
Be sure to have the 4 digit pin that was emailed to you during registration from https://hamtest.org available. (The VEs will have it if it is not convenient for you to have this ready)
The VEs will ask you to move your camera around to check the room, exam table, writing paper, and any other items using both your web cam.
You may be asked to put things away, on the floor, close doors, windows, or otherwise.
You will be asked to share your entire screen, with your start bar, menu bar, and/or dock visible, and demonstrate no inactive window is hidden away from the active and maximized browser window.
If it looks like you reference unauthorized materials (e.g. looking at cell phone, even just the lock screen, changing windows on computer, etc.) will invalidate your exam.
Another person entering the exam space as well as the examinee getting up or leaving the room during the exam will invalidate the exam.
At any time during the session, you may be asked to move your camera around for the VE Team to perform an additional check.
Once you are in a breakout room with the VEs (not recommended to do this too early because the browser may time out) go to https://exam.tools – click on "Join Exam Session" and you'll enter N6HKT as the Session Call Sign and your PIN.
While taking the exam, the VEs will be on mute and have their cameras turned off to avoid any distractions to you. Remember, they will still be monitoring your session.
Your camera and microphone must remain active throughout the session.
If you have any questions during the exam, simply ask them verbally, so the VE Team may address any technical concerns. They cannot answer any questions related to the exam material until after the exam is completed.
When you have completed the exam (and have double-checked your answers, if desired), press the "grade exam" button to notify the VE Team.
Your exam will be graded and the results will be shown on the screen.


After the completion of your exam

If you received a passing score on your exam:

The VE Team will complete your paperwork. You will need to sign digitally before your application can be submitted to the FCC.
We will post your new callsign on sbcara.org as soon as it is available.

If you failed your exam, you may choose to register for another exam session in the future at any time.
Paying for your Testing Session
NOTE: IF POSSIBLE, IN THE NOTE FIELD ON PAYPAL PLEASE ADD "VE" FOLLOWED BY THE FIRST AND LAST NAME OF THE PERSON WHO IS APPLYING FOR THE AMATEUR RADIO LICENSE AND TAKING THE TEST OR LET US KNOW WHAT PAYMENT MATCHES WITH WHICH EXAMINEE BY EMAILING [email protected] – THANK YOU!
1. WITH a PAYPAL ACCOUNT for a TEST ONLY (including ON-LINE REMOTE test session) for $14
: Visit our account at PayPal by going to
http://paypal.me/sbcara/14
2. WITH a PAYPAL ACCOUNT for a HAM CRAM / STUDY and EXAM
Session the cost is $25 so please use these links below… With a PayPal Account Visit our account at PayPal by going to
http://paypal.me/sbcara/25
3. WITH a PAYPAL ACCOUNT
click on this QR Code if you have PayPal as an application on your smart phone and specify $14 For a test only (including on-line remote test session) or $25 for a Ham Cram / Study and Exam Session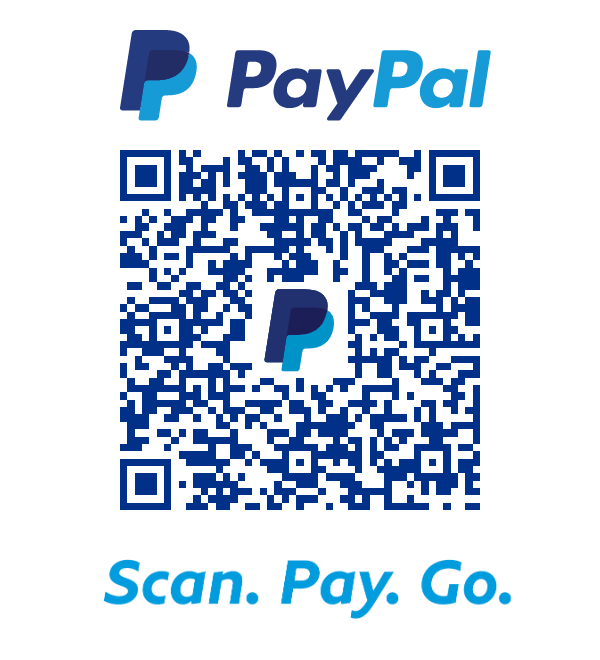 ---
4. WITH OR WITHOUT a PAYPAL ACCOUNT to pay by credit card, a PayPal account is not necessary to pay on the PayPal site with the "Donate" link below)
5. To pay by physical check, send the check made out to SBCARA to
SBCARA/VEG c/o San Benito County ACS/RACES, 3226 Southside Rd, Hollister, CA 95023

Please email testing @ sbcara.org to let us know you are paying by check.