Sea Otter Classic Radio Volunteer 2023
Much everything that involves the amateur radio team for Sea Otter Classic back country support this year is the same as the past few years (at least so far). This year it will be April 20-23, 2023.
Help from amateur radio operators has been a vital resource for communication in the Fort Ord National Monument back country. Thank you to those of you who have volunteered in the past.
The Sea Otter Classic attracts thousands of athletes and spectators and is now regarded as the world's premiere cycling festival. The areas where we assist have little or no cellular or repeater coverage. It is an excellent opportunity for demonstration and practice of emergency communications and help build readiness for a real disaster.
This year help will be needed for the following times:
Thursday 4/20 – Back Country Support – Morning through Afternoon
Friday 4/21 – Back Country Support – Early Morning to Early Afternoon
Saturday 4/22 – Back Country Support – Early Morning to Mid Afternoon
Sunday 4/23 – Back Country Support – Early Morning to Afternoon
Camping is available directly from the event (https://www.seaotterclassic.com/camping/) or we have the option of camping for no charge in the Laguna Seca paddock. If you're interested in camping in the paddock, please email me directly.
Ham radio operators will be primarily working radios including ham radios and/or commercial/public safety radios (i.e. You may be asked to coordinate on a public safety frequency to guide in an ambulance while the medic provides care). We'll always try to pair experienced hams with new hams as needed. First aid and course marshal support will be provided by National Ski Patrol as in the past.
Volunteers receive a volunteer T-Shirt, a pass to the Sea Otter Classic Festival (a $70 value), and a lunch. There may be some other surprise items for the volunteers.
Please note that the times and details are subject to change, but we will keep you updated if you volunteer. Please keep in mind that end times are estimates. In most cases the event will end earlier, but if we have a significant incident, demobilization may go much later and especially in the back country, exit routes are closed to vehicle traffic during the event.
Please go to https://sea-otter-classic.volunteerlocal.com/volunteer/?id=68024, in the password field, enter the word "Radio" (without quotes) do not enter anything else on the page and click on "Submit". The page will update with the Amateur Radio shifts. Click on the check box to click on if you're available and interested in that volunteer activity. All the events are for the backcountry at Fort Ord. For "Group – Organization Name" please select "San Benito Amateur Radio Association". You can fill out your information. Under "Is anyone volunteering with you" please enter "None". We need a separate submission for each volunteer. Sign the disclaimer by clicking the check box and entering your name and submit. You'll receive an email from Jeff Lindenthal to confirm your registration. This process needs to be done for each volunteer.
If this is your first time volunteering for this event or there has been a change in your home location, vehicle, or food choices, please fill out the form at https://tinyurl.com/soc2023hro
Like many ham radio groups, we use groups.io for our email system. If you're volunteering this year, please go to https://sbcara.groups.io/g/soc and sign up for our email system so you can get updates. If it complains that you need to be a member of the parent group, you can ignore that. I'll take care of that behind the scenes. The nice thing about this is that this year, you can see emails, even those before your sign up, and don't have to store them on your own email system.
If you can't volunteer this year and want to stay connected, please go to https://sbcara.groups.io/g/soc-interest and sign up to receive email for future events.
---
Updates
---
Volunteer List
| | | | | | |
| --- | --- | --- | --- | --- | --- |
| Name | Callsign | Thu | Fri | Sat | Sun |
| Rich C. | KN6UZL | | | X | X |
| Patrick D. | N6PWD | | X | X | |
| Ray D. | N6DZK | X | X | X | X |
| Travis E. | N6DTE | X | X | X | X |
| Dave F | KD6LSH | X | X | X | X |
| John G. | N6QX | X | X | X | |
| Liam H. | WA6RAH | | | X | X |
| George H | N6GWH | X | | | |
| Joerg L. | K6JAL | | | X | |
| Ron. R. | KD6ZXG | X | X | | X |
| Mel T. | KK6MES | | X | X | X |
| Tim T. | W6TST | X | X | X | X |
| Gary W | K6PDL | X | X | X | |
Documents
FREQUENCY PLAN
Schedule – In Development
IMPORTANT! Ending times are estimates only. Events may run longer. If there is an incident, we will need to stay on duty for that event until we are clear of incidents we're involved with.
Sat Apr 20 – Enduro
| Time | Communications | Event |
| --- | --- | --- |
| 0645 | Meet @ Paddock | |
| 0715 | Briefing | |
| 0800 | Deploy | |
| 0900 | Support Starts | Events Start |
| | | Enduro 1-4 |
| 1630 | | Events End |
| 1700 | Support Ends | |
| Time | Communications | Event |
| --- | --- | --- |
| 0620 | Meet @ Paddock | |
| 0630 | Briefing | |
| 0640 | Deploy | |
| 0700 | Support Starts | Events Start |
| 1200 | | Events Ends |
| 1400 | Support Ends | |
7:00am Elite Men
7:10am Elite Women
7:15am 15-16 / 17-18 / 19-29 Men
7:20am 30-39 Men
7:25am 40-49 Men
7:30am 50-59 Men/60-69/70+Men/Non-Binary/Para Male/Para Female
7:40am 15-16 / 17-18 / 19-29 / 30-39 Women
7:45am 40-49 / 50-59 / 60-69 / 70+ Women
Sat Apr 22 – Fuego XL
| Time | Communications | Events |
| --- | --- | --- |
| 0620 | Meet @ Paddock | |
| 0630 | Briefing | |
| 0640 | Deploy | |
| 0700 | Support Starts | Events Start |
| 1300 | | Events End |
| 1500 | Support Ends | |
7:00am Life Time Grand Prix
7:05am Elite Men
7:10am Elite Women
7:15am 15-16/17-18/19-29/30-39 Men
7:20am 40-49 Men
7:25am 50-59 Men – 50-59 Men
7:30am 60-69/70+ Men/Non-Binary/Para Male/Para Female
7:35am 15-16/17-18/19-29/30-39 Women–40-49/50-59/60-69/70+Women
Sun Apr 23 – Fuego XC & SHORT
| Time | Communications | Event |
| --- | --- | --- |
| 0650 | Meet @ Paddock | |
| 0700 | Briefing | |
| 0710 | Deploy | |
| 0729 | Support Starts | Events Start |
| 1030 | | Robles Tour Starts |
| 1130 | | Fuego End |
| 1400 | | Robles Tour Ends |
| 1600 | Support Ends | |
7:29am XC MTB ENDURANCE
7:30am XC Elite Men
7:32am XC Elite Women
7:45am XC SS/JV/Varsity/19-29/30-39 Women
7:55am XC Para Male/Para Female–40-49/50-59/60-69/70+Women
9:30am XC SS/Tandem/JV/Varsity Men
9:40am XC 19-29 Men
9:50am XC 30-39 Men
10:00am XC 40-49 Men
10:10am XC 50-59 Men
10:15am SHORT 60-69/70+ Men – Non-Binary
10:25am XC Junior Boys 8th Grade/Junior Girls 8th Grade (15 miles)
10:30am SHORT Junior Boys/Girls 4 Grade (5 miles) –
XC Junior Boys 7th Grade/Junior Girls 7th Grade (15 miles)
10:40am SHORT – Junior Boys/Girls 5 Grade (5 miles)
10:45am SHORT – Junior Boys/Girls 6 Grade (5 miles)
10:30 – 14:00 – Robles Tour
2023 MAPS – Early Versions
---
Laguna Seca – VHF Amateur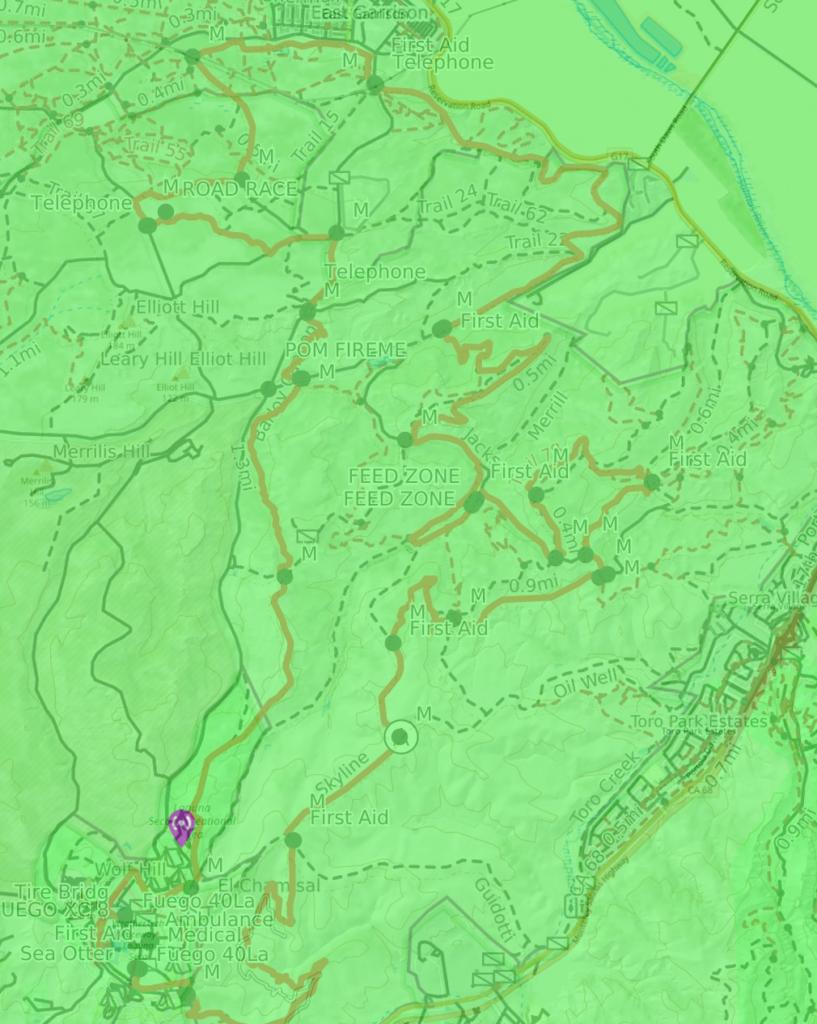 Laguna Seca – UHF Commercial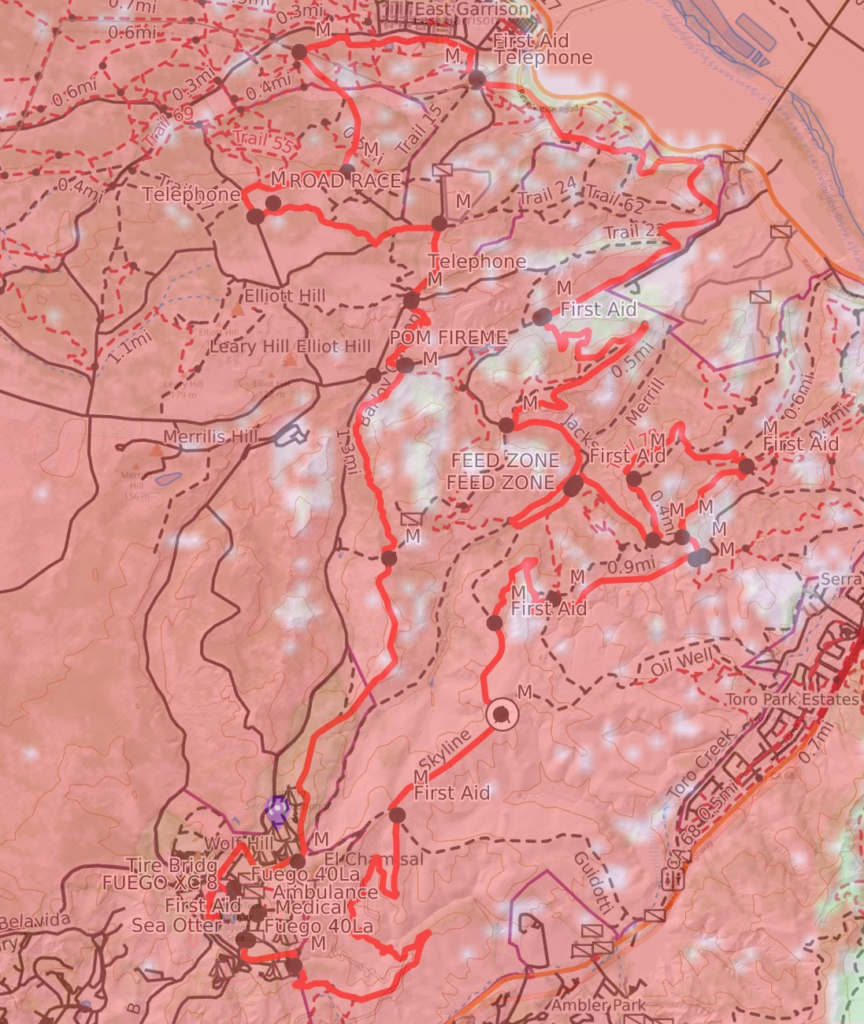 ---
Latest & Greatest MTB Tech from Sea Otter
Downhill Track for 2022